FREQUENTLY ASKED QUESTIONS:

What is hypnobirthing?
Hypnobirthing is a branch of hypnotherapy which has been used successfully in healthcare for a long time, such as dentistry and sports psychology. It is sometimes known as natal hypnotherapy or hypnotherapy in childbirth. It works by using the power of the mind and deep relaxation techniques to enable you to work with your body to achieve the optimum birth for you.
A hypnobirthing course builds your confidence by resolving any worries around birth, and exploring how positivity affects us. You will learn deep relaxation techniques and listen to gentle self hypnosis scripts as you prepare for your new arrival. You will not be out of control or do anything you do not want to do. The course empowers you with knowledge so you can release any fear and anxieties of birth so you can trust your body to work efficiently, trust your instincts, and bond with your baby. It is a lovely antenatal education programme that teaches you techniques which can actually transform your birth into a positive experience.
Hypnobirthing is different to other antenatal courses. It is not about a right or wrong way to birth: The 5 Cs of hypnobirthing are; Confidence, Control, Choice, Calm, Comfort.
What is the history of hypnobirthing?
Although breathing techniques and support networks have always been around when women give birth, the official seeds of the hypnobirthing movement were first officially sown with the work of an English obstetrician called Dr.Grantly Dick-Read. He attended a homebirth at London Docks in 1913, where the mother declined pain relief yet gave birth quickly and reported no pain. Grantly Dick-Read was truly amazed in a period of time when women were heavily medicated in childbirth.
The Mother's comment after giving birth when he asked why she declined the pain relief was "It didn't hurt. It wasn't meant to, was it, Doctor?" This experience was defining for him, and after a career of working on the battle field and in hospitals he theorised that fear was the overriding cause that led to additional pain in childbirth. At the end of his career he wrote the book "Childbirth Without Fear". He hypothesised that when you are fearful, you tense up and the natural birth process is inhibited and becomes longer and consequently more painful.
Over the years his theories have been fully supported with research into how hormones, muscles and the nervous system all work during childbirth and pain management. You may be surprised at how hypnobirthing is completely based on science!
What will I learn on hypnobirthing antenatal course?
How to have a positive pregnancy
Breathing exercises
Deep relaxations
Visualisations
Effective work to release fear of birth and build confidence
Understanding how the mind and body work together
How to have a relaxing and comfortable birth
Coping strategies
Preparation for birth
Positive affirmations
Removing fears
How your body is designed to give birth with efficiency and comfort
How to work with your healthcare team to achieve the best result for you
Have a positive birth experience- which many women say they enjoy birth!
Time to ask questions, tell your story and work through any fears
Signposting to other support systems
Begin to bond with your baby
Knowledge and information about the birth, and the early weeks of parenting, especially the "4th trimester"
How to avoid medical intervention where possible
Lots of practical information on caring for yourself and baby
How your partner can be your powerful protector and supporter
Simple exercises to practice together at home with your partner
Answers to any additional questions you may have
How does a hypnobirthing course help me?
You will feel relaxed, calm and in control in whatever birth you have, and your birth partner will learn how to support you and have a central and active role in the birth. As you relax, so too will your baby. A truly shared and loving experience.
Research has shown benefits of Hypnobirthing include:
Women in a hypnosis group were shown to have 'a better childbirth experience…' (Werner A, et al 2013 a randomised control trial).
Lead to a reduced need for pain relief (Cyna AN, McAuliffe GL et al, 2004 – British.J. Anaesth.).
A shorter labour (Jenkins and Prichard 1993).
In a study 84% of women using Hypnobirthing have a normal birth, and less likely to need a caesarean. (Royal Wolverhampton NHS trust -2012).
How will a hypnobirthing course help my baby?
Your baby will arrive to a serene and relaxed environment, alert and ready to bond and breastfeed as nature intended. These benefits to your baby cannot be over estimated. Many parents who have used hypnobirthing report they approach birth with calmness and confidence, have increased resilience, feel more responsive and that their babies are calmer and more settled. I have a lot of experience working in maternity care, and can say this is very true!
Why attend a hypnobirthing course?
At the course you have not only a qualified KG hypnobirthing teacher but also the opportunity to utilise my midwifery knowledge. The cost of the course includes The Hypnobirthing book by Katherine Graves, a course folder for you to keep and refer back to, MP3's of three wonderful relaxation exercises will be given to you which support your home practice from the course, along with several handouts and a suggested reading list should you wish to expand your knowledge even further. The book is provided in an electronic format, or there is an additional £5 charge for a paperback copy. Ongoing email/ text support is available, and even access to a private facebook group!
What kind of birth will I have?
If you practice the hypnobirthing techniques, you are statistically more likely to have a more natural birth as you are using coping strategies to help you cope with labour more effectively, but unlike many other antenatal classes hypnobirthing works with your body and mind in unison so you will have a positive birth experience because YOU are in control.  Hypnobirthing is for all types of birth- that includes homebirth, midwifery led units and consultant led units, even if you have been told you are "high risk". Many NHS trusts are starting to set up basic classes. This is because hypnobirthing is a portable skill and so the deep relaxation techniques practised during pregnancy will help wherever and however the baby is born. In fact they are often needed more in a medicalised birth! The positive birth movement says "A positive birth experience does not have to be natural or drug-free- it simply has to be informed from a place of positivity as opposed to fear. Women rate their births on whether they felt they had freedom of choice, access to accurate information, in control, powerful and respected."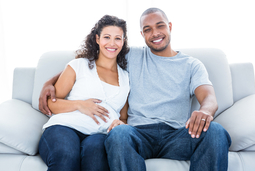 Where can I get more information about hypnobirthing?
Please click on the contact form link and ask any questions, I am very happy to help and can often point you in the right direction if I don't know the answer! In the meantime, thankyou for looking at the website and as a complimentary gift please download and have a read of the first chapter of The Hypnobirthing book by Katherine Graves: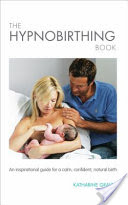 Testimonials
"A big thank you for the course you delivered last weekend. It was immensely helpful and reassuring, and we're both feeling much more confident and optimistic about the birth." (Leamington Spa)