Birth partners are the crux of the birthing team. You role is so important to a birthing mum- you know her better than any health professional. Yet, I tend to think that birth partners have a difficult time of it as in the media they are often portrayed as useless or a comedy target. Think too about how traditionally men were not allowed in the birth room- was your own father present at your birth? So despite no obvious role models, birth partners are now expected to know what to do and be an active part of the team. It's a tough job!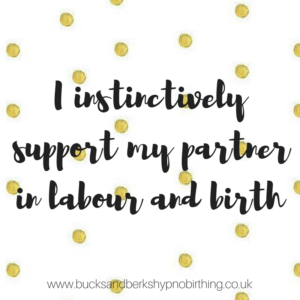 If you feel that you would like some practical discussion on the role of a birth partner- such as understanding the importance of keeping mum to be calm, how you can boost her oxytocin, how to adapt the environment to meet your needs, then I fully recommend coming along to the full KG Hypnobirthing course. Birth partners (male or female, btw) will be fully involved in the course. You will not be ridiculed or made to feel like a spare part. You are a birthing team and that will be fully respected.
If however, you are short of time and perhaps mum has read the book by Katherine Graves (free sample here) and listened to the MP3s, then a 90 minute session can be tailored just for you, for just £80. It is pretty much the essentials of hypnobirthing but just for birth partners. We will look at the science of why hypnobirthing works, how to use her hormones to your own advantage, and what are the fundamentals of the birth partner role. This can be either a face to face session in the comfort of your own home, or via skype and email. Get in touch to discuss further.
Testimonials
"Now feel really informed on my approach to labour and what to expect. Thankyou" (Chris, Moseley, Birmingham, 2018)
"It covered all my questions and doubts about birthing. I liked the way it was structured and how flexible you were to discuss different topics as I was asking" (John, Edgbaston, 2018)
"Covered everything I didn't even know I needed! Honestly, everyone should know about this!" (James, Kings Heath, 2018)